Are you in?
STAY CONNECTED WITH THE BRAND!
Subscribe to our Email list
FOLLOW @JANEAHSIMONE AND @JANEAHSIMONE_BEAUTY ON INSTAGRAM
SUBSCRIBE TO JANEAH'S JOURNEY ON YOUTUBE TO WATCH FUN & INTERACTIVE BEAUTY VIDEOS
EVERY WEEK!
DON'T FORGET TO TAG US IN YOUR BEAUTY PICS AND USE OUR HASHTAGS!
#JANEAHSIMONE
#JANEAHSIMONEBEAUTY
#JANEAHSIMONECOSMETICS
#JANEAHSIMONEHAIRCARE
#JANEAHSJOURNEY
made for you
Janeah's Faves!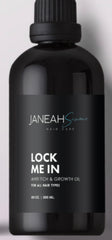 Lock Me In (Anti Itch & Growth Oil)
$18.00
Add to Cart
BUTTER (STYLER)
$18.00
Add to Cart